Powered by
|
Learning reinvented. LP+365 transforms Microsoft Office 365 into your school learning and collaboration platform, making learning interactive, engaging and collaborative.
Learning Possibilities A Microsoft Global Partner
The LP+365 App.
LP+365 is the latest learning and collaboration platform from Learning Possibilities, developed in partnership with Microsoft. Based on research and over 10 years of experience, LP+365 brings LP+ technology to Office365, driving positive education outcomes for learners. Find all the tools you need to share resources, communicate, collaborate and manage assignments in a simple, engaging dashboard.
LP+365 Full Demonstration (17 mins)
In this video, produced by Microsoft, you can see the LP+365 Learning and Collaboration Platform being fully demonstrated by our CEO, Dr Mehool Sanghrajka.
Key Benefits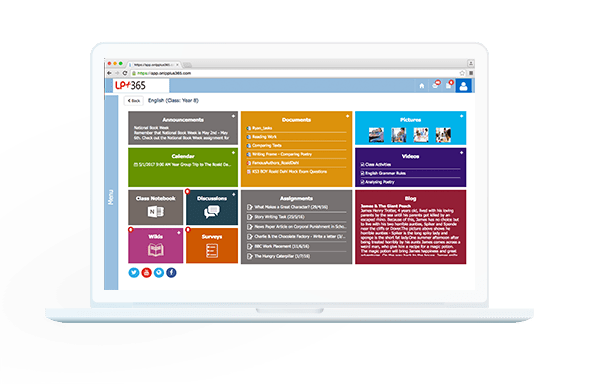 The LP+365 App has a dynamic, and intuitive interface. It's automatic class site provisioning and relevant tools allow users to organise resources, manage assignments easily and encourage communication, collaboration, creativity and discipline in learners.
LP+365 on Mobiles and Tablets
LP+365 has an intuitive and responsive design, developed to work with all Microsoft Office Mobile Apps. Full integrated with OneDrive, it enables learners to keep an e-portfolio of their work and easily organise and manage resources, projects and assignments.
LP+ 365 benefits
A recent report puts Microsoft Office as 2nd most important skill for students
IDC Study: Top Skills Comparison
For Teachers
Easy to use and implement
Only 20 mins for training.
Organised and structured interface.
Manages learners' work and performance.
Inbuilt support and professional development site.
Increasing independent study.
Offline access to Office web apps.
Encourages learning beyond school.
For Learners
Simple, intuitive and fun platform.
Recognise the importance of technology and
its application across education.
Building digital and employability skills essential for their future.
Developing initiative & inventiveness.
Innovative, engaging and imaginative.
Access to latest market leading tools on
Microsoft immediately.